Hurricane Ian, packing 150 mph wind and heavy rain, made landfall on Florida's Gulf Coast in September 2022. In the path of this hurricane—one of the most powerful storms to hit the US—was the Flagler County Radio Aero Modelers (RAMS) club in Bunnell, Florida.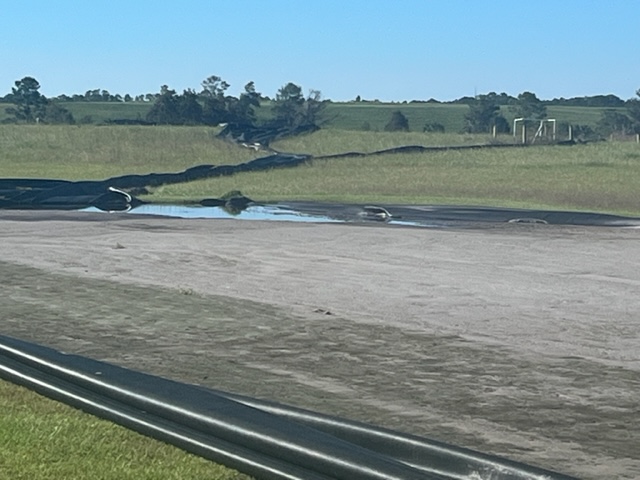 "Hurricane Ian hit southwest Florida with wind gusts to 160 mph, stated club secretary," Dennis Seiferheld. "The storm crossed the state on September 29, hovering over Flagler County for a while with Category 1 wind and rain."
The Flagler RAMS club flying site, located near Florida's east coast, utilizes a landfill in Flagler County that is managed by the county, but the club oversees the property. 
"Our runway is GeoTextile fabric, 60 feet x 600 inches," Dennis commented. "Unfortunately, the strong wind separated several seams in the runway and then blew the fabric all over the place.  As a result, we needed to put down a new base for the runway, before replacing the fabric."
In October 2023, the club applied for and received a $500 AMA Foundation Club Disaster Relief Grant. "We are grateful for the grant that AMA provided to help with this project. Every bit helps a lot," he said.
Dennis shared more about the work that was required to replace the runway:
"We had to remove the existing fabric, replace the runway base, and install new fabric. We installed the new fabric by changing to 12-inch staples, rather than 6-inch staples previously. We glued all the seams, and taped over the seams. Hopefully, any future storms won't allow airflow under the runway, protecting it from blowing away. The total project took a couple of months to complete. The approximate cost of the repairs totaled approximately $14,000."
Today, the club is taking advantage of its new runway. Roughly two weeks ago, the group held its Come Fly With Us event. The field was opened to the community and visitors were able to to try their hands at RC flying. Five trainer airplanes were going at one time. This year, approximately 75 people from the local community attended.
If you would like to contribute to the Disaster Relief Fund to help other clubs affected by natural disasters, donate to the AMA Programs Fund. Clubs can receive $500 per natural disaster.