We are excited to share with our donors that the AMA Walk of Fame has been enhanced with numbers to allow you to find your brick easier and faster than in the past. When you visit headquarters simply request your brick number at the front reception desk and you can find it easily with the new installment. New brick purchases include a certificate which will include the brick number as well.
AMA Walk of Fame Brick Program
Established in 2001, the AMA Walk of Fame at the International Aeromodeling Center is designed in the shape of a large propeller and signifies the history of the hobby with honored names from all sectors of model aeronautics. Purchasing a brick along the Walk of Fame permanently includes your name, or the name of an honoree, along this scenic walk. It's a permanent testimony to your continuing support of the hobby. Walk of Fame bricks are available in different shapes, colors, and materials.
Remembering Ed Dolanski Sr.
"My dad was the funder, I was the builder and flyer; it was a true partnership." says Edward Dolanski, Texas.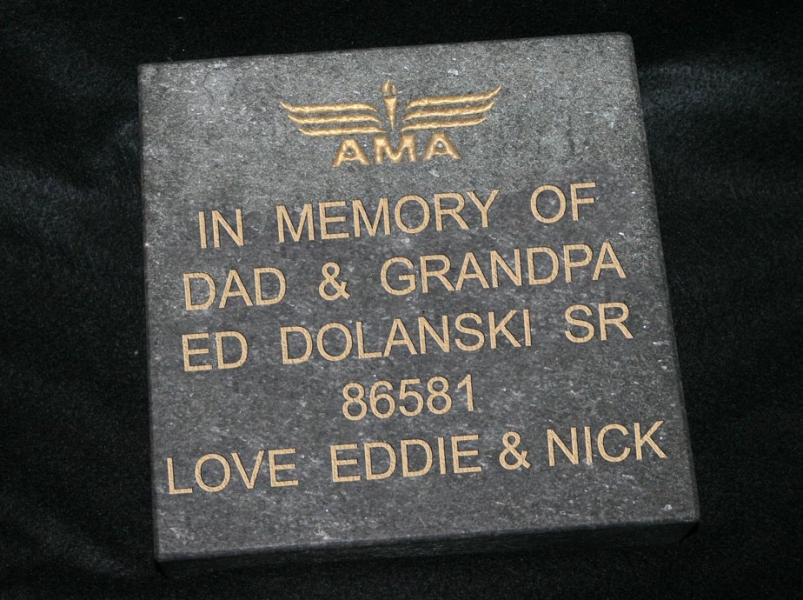 He has many memories building and flying model airplanes with his dad, Edward Dolanski Sr., who has now passed away. The relationship he built with his father around aeromodeling and the pure "coolness" of the sport made model aviation Ed's passion. This passion for flight influenced his career path and he is now an executive at Boeing. He is sharing his passion with son Nicholas, 14, an AMA Life Member like his father, martial artist, and developing park flyer. Recently, Ed purchased a granite brick along the Walk of Fame at the International Aeromodeling Center to honor his father, celebrating yet another story of how the hobby is more than models, but about relationships, spirit, learning, and tradition.